Yiwu Market District
As a professional China sourcing agent with more than 20 years of experience, Skylark is so familiar with the Yiwu district map that we know where to exactly buy the stuff we want in each district.
The Picture of Yiwu Market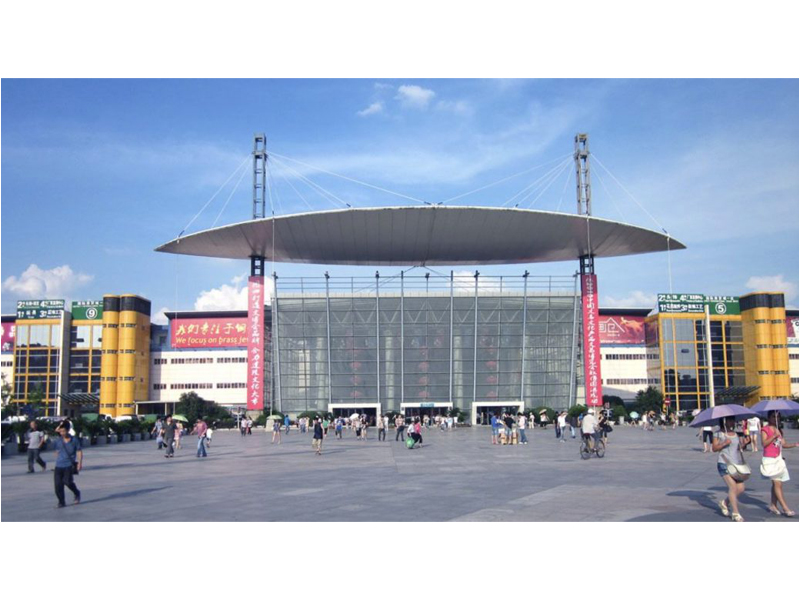 Yiwu Market District 1
The initial construction of the first complex of the Yiwu Trade Market began in 2001 and was opened on 22 October 2002. Yiwu Market District 1 covers an area of 340,000 m2 (3,700,000 sq ft) hosting 9000 booths and over 10500 businesses. The complex cost ¥700 million to construct. Yiwu District 1 is divided into five main business areas: the Manufacturers Outlet Center, the Shopping Center, the food court, the warehousing center, and the "Subject of the Market" area. The 1st-floor of Yiwu District 1 deals in artificial flower, toy, and flower accessories, the 2nd-floor hair ornament, jewelry & ornament, ornament accessories, frame, ceramic & crystal, tourism craft, festival craft, decorative craft on the 3rd floor, Taiwan Mall (flower·ornaments·craft), factory outlets (toy·flower·ornaments/accessories) on the 4th floor and a sourcing center for foreign trade companies in the east subsidiary building. On average, 40,000 people visit the complex every day, 5000 of whom are foreign visitors. Commodities from Yiwu District 1 are exported to over 200 countries and regions. Yiwu District 1 is an appointed shopping & tourism spot by Zhejiang Tourist Bureau and is titled the first "Five-star Market" of Zhejiang province by the Provincial Industrial & Commercial Bureau.
4F: Taiwan Mall (Flower / Ornaments / Craft) Factory, Outlets ( Toy / Flower / Ornaments / Accessories )
3F: Ornament Accessories, Frame, Ceramic & Crystal, Tourism Craft, Festival Craft, Decorative Craft
2F: Hair Ornament, Jewelry & Ornament
1F: Artificial Flower, Toy, Flower Accessories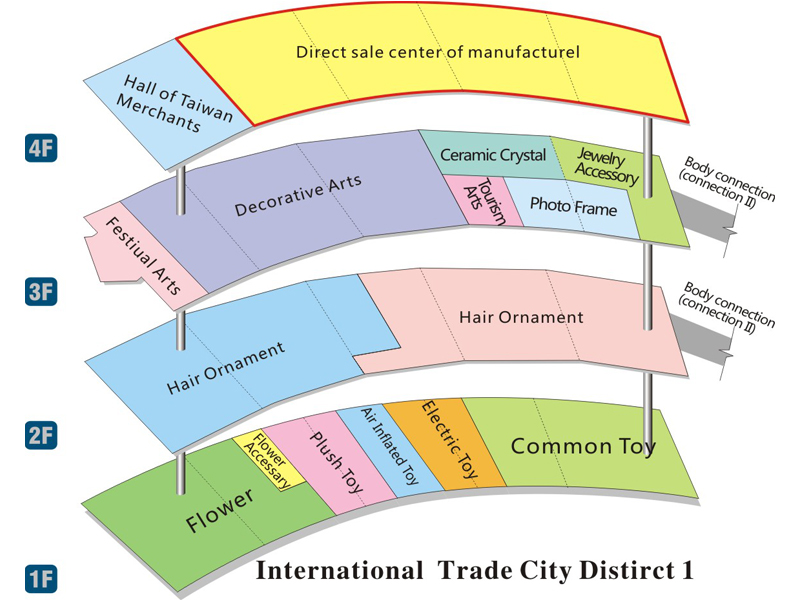 Yiwu Market District 2
Yiwu market district 2 of China Yiwu International Trade City opened on October 22, 2004. The market covers an area of 483 acres, with a construction area of more than 600,000 square meters, with more than 8,000 shops and more than 10,000 business households.
The 1st-floor of Yiwu Market District 2 deals in luggage, umbrellas, poncho and bags.
The second floor of Yiwu Market District 2 deals with hardware tools, accessories, electrical products, locks, and cars.
The third floor of Yiwu Market District 2 operates hardware kitchens and bathrooms, small household appliances, telecommunications equipment, electronic instruments, clocks, etc.
On the fourth floor, there are direct sales centers for production companies and boutique trading areas such as Hong Kong Pavilion, Korean Business Pavilion, Sichuan Pavilion, Anhui Pavilion, Jiangxi Jiujiang Pavilion, Xinjiang Hotan Pavilion, etc..
The foreign trade procurement service center is set on the fifth floor of Yiwu Market District 2. And the tourist shopping center and the China Commodity City Development History Exhibition Hall are set on the second and third floors of the market central hall.
In 2005, the market passed the assessment of the national AAAA Tourist Attraction.
5F: Export Agencies, Featured Products
4F: Hardware & Electronics, Electronics
3F: Kitchen & Sanitary Hardware, Small Home Appliances, Telecommunications, Electronic Appliances & Photographic Equipment, Battery/Lamp/Flash Light(Electronics), Clock & Watch
2F: Electrical Products, Hardware Tools/Accessories, Lock, Vehicle
1F: Rain Wear & Pack, Suitcase & Bag, Umbrella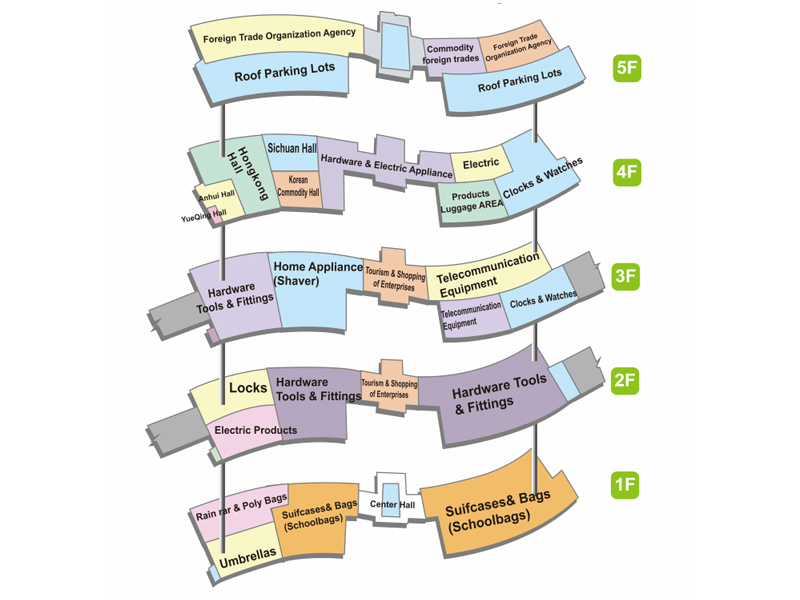 Yiwu Market District 3
Yiwu market district 3 has a building area of 460,000 square meters. The first to third floors have more than 6,000 standard booths of 14 square meters, and the fourth to fifth floors have more than 600 commercial booths of 80-100 square meters. There are more than 650 exhibition halls of more than 50 square meters and more than 8,000 business households. The fourth floor is the direct sales center of production enterprises, and the entry industries are stationery, sporting goods, cosmetics, glasses, zippers, buttons, clothing accessories and other industries. People and goods flow unimpeded in the market. Cars can reach all floors, and there are multiple ground parking lots and rooftop parking lots. Modern logistics, e-commerce, international trade, financial services, as well as accommodation, catering, entertainment and other service functions are complete.
5F: Paintings/Frame
4F: Factory Outlets-Cosmetics / Beauty / Products, Factory Outlets-sports goods & stationery / outdoor products, Factory Outlets-garment accessories
3F: Mirror & Comb, Button & Zipper, Cosmetic Accessories, Cosmetics, Beauty Products, Apparel Accessories, Accessories
2F: Leisure & Entertainment Products, Sports Goods, Office & Study Stationery
1F: Pens & Ink, Paper, articles Glass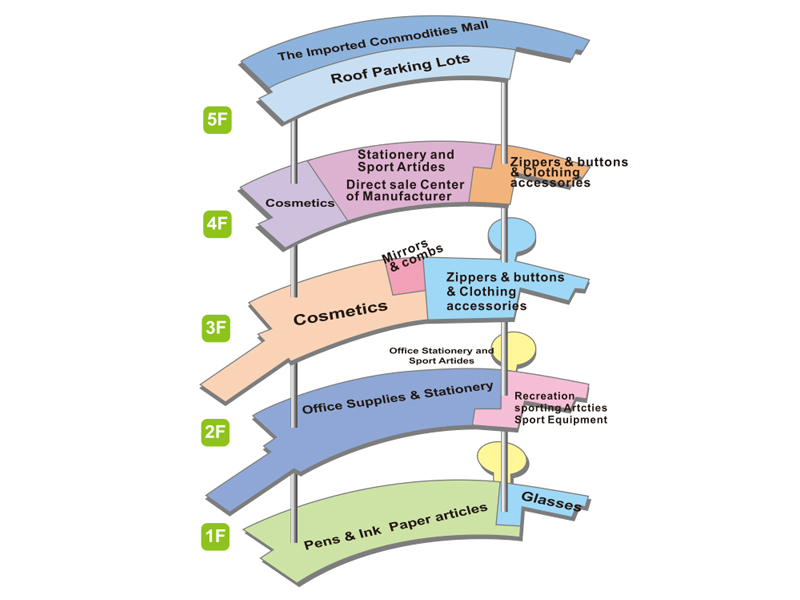 Yiwu Market District 4
Yiwu market district 4 is the sixth-generation market of Yiwu China Commodity City. The market opened on October 21, 2008, with a floor area of 1.08 million square meters and 16,000 shops.
The first floor of the market sells hosiery; the second floor sells daily necessities, gloves, hats, and needle cotton; the third floor sells shoes, string, lace, tie, wool, and towels; the fourth floor sells bras, belts, and scarves. The market has elevated lanes, and various vehicles can go directly to all floors of the market.
There are plenty of berths in the market. In addition to large underground parking lots, there are also multiple surface parking lots and rooftop parking lots. District 4 of Yiwu International Trade City, China draws on the advanced design concepts of the current international large-scale commercial centers and integrates a number of high-tech products. It is the commodity wholesale trading market with the highest technological content and the highest international level in China. It is a modern landmark building in Yiwu market.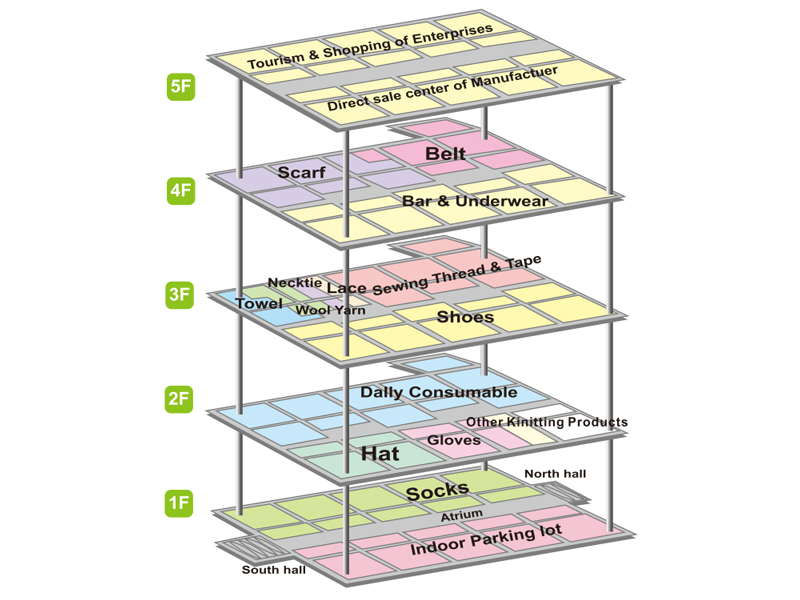 Yiwu Market District 5
Yiwu market district 5 is located in the south of Chengxin Avenue, north of Yinhai Road, and 310 Provincial Highway in the east. It is connected to the four districts of the International Trade City in the west. The transportation is convenient and the location advantage is unique. The market covers an area of 266.2 acres, with a construction area of 640,000 square meters, and a total investment of 1.42 billion yuan. It is divided into five floors above ground and two floors underground. It has more than 7,000 shops and mainly deals in imported goods, bedding, textiles, knitting raw materials, and automotive supplies. And accessories industries.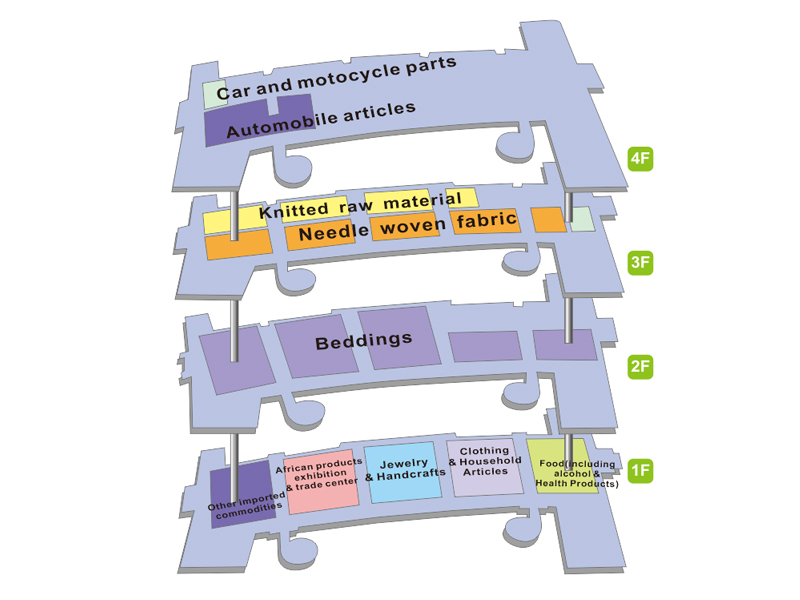 As an experienced buying agent in Yiwu, Skylark is a live Yiwu market location map providing you with the most detailed Yiwu wholesale market guide/directory.